A Big Step Forward. XHTMLized Has a New Office!
And it is spacious, full of light and positive vibrations. There are huge rooms for the developers where all the code magic is woven, a chill out room that could compete with the greenest meadow, and Australian accents here and there to remind us about our roots.
There are also tricky marks on the walls which can only be seen when looking from the right direction – so cool it would be unforgivable not to mention.
In the beginning there was chaos
But before we could start to make ourselves comfortable in our new home, we had to put in a lot of effort in order to bring it to its current glory and shininess. The beginning was full of rubble, dust, wall crushing and paint and people flying all over the place…
Transformation
…had taken almost 2 months, a bit longer than we previously planned… but hey, perfection comes at a cost, doesn't it? We believe it is worth it to spend the extra resources, time and patience, because there is always only one first grand opening, only one first presentation, only one first impression. And it does not matter if it is a website we craft, or an office we renovate – the ultimate quality must always be top notch. We think this extra time was spent justly… and the effect, well, have a look for yourself.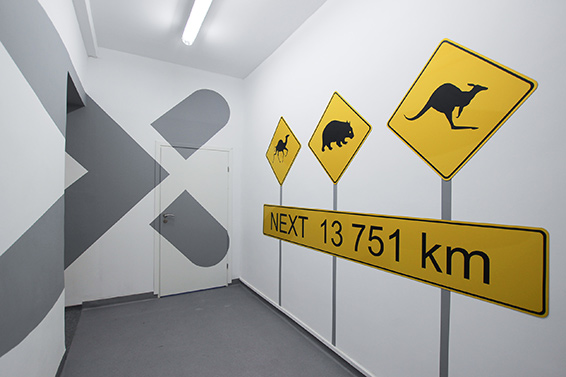 Many meetings
Some places started to grow their spirit once people came in and began to fill the space with their voices, passions and dreams.
And the people have come numerously. From the furthest corners of the Earth, members of the XHTMLized family have come to celebrate the Grand Opening to chill and hang out together. As for the semi-remote company, it was a truly unique moment when the team from Kraków office could finally meet X-Clouders who work with them on daily basis, but usually from very distant places. There was even one guy who flew half-way around the world from Australia to see how XHTMLized had made it to the maturity…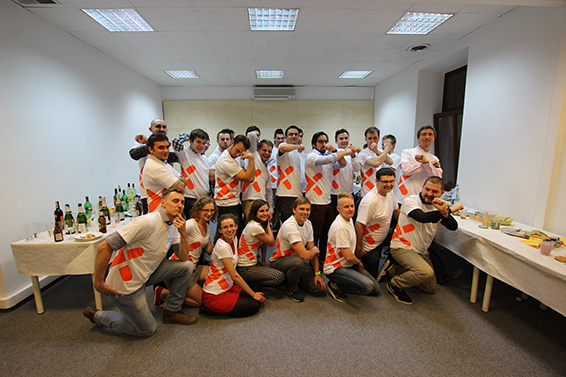 A look into the past
Even if it was only one evening, we shared a many good laughs, great stories, and even a bunch of specially designed t-shirts during this very fine event. Splinters of these stories are worth sharing with a wider audience…
"The beginning was tough, however, after Dave's Techcrunch post (our 15 minutes of fame :P, we didn't know it would last much longer), project orders start to pour in and many interesting clients knocked on "our virtual doors" asking for help, as well as many highly skilled developers were added to our team and helped with the rapidly increasing number of projects.
Among them were people who are now leaders and legendary heroes – Wojtek, Tine, and Lubos to mention few. Our team grew into a large family of people who enjoy the work they are doing and they do that work with passion and love.
That's why XHTMLized keeps going after all these years, and I believe will keep going for a very long time in future. Thanks!"
Stan Dzavonorok, Project Engager
"From today's point of view, when I think about XHTMLized in Poland a few years ago — it was just like me: confused and a little bit unorganised. Metaphorically speaking, it was like learning how to walk, just like a child.
But through all these years, there were people who helped us to grow: people who have worked with us, and the people who work in Kraków's office right now. There is a lot of history among us.
Thanks to the people who work here, I have learnt all I know. Thanks to them I really enjoy working in this company; I like coming to the office every morning, and somehow they became my family.
Projects and clients come and go, but we stay, with each day becoming smarter, more experienced and closer to each other.
But there are two things I appreciate most: the trust and sense of humour. Thanks to these two values, everything is possible here."
Ewa Karaszkiewicz, Front-end Developer
"November 2014 marks a huge milestone in XHTMLized's history. We have been progressing steadily — starting from working remotely, moving to doing occasional meetups and establishing the first office, finally reaching the stage where we are right now.
We have experimented with various business models and tools, always trying to stay ahead of the market. But it is only thanks to relentless and consistent efforts of all the superheroes at XHTMLized that we can now call this place a new home. It was truly a team effort and I thank everyone for that.
Here's hoping that this area will become the #1 place for growth, sharing knowledge, and productive collaboration. I, for one, am looking forward to XHTMLized disrupting the web development industry. Just make sure to have fun while you're doing it! /FIVE"
Wojtek Zając, Strategic Advisor
"First of all, I need to say a big thank you to the whole team. That event, this new age that we are starting right now, is only because of their hard work. They made this growth possible. They are all a part of this awesome success.
The story started 10 years ago when Dave and Stano started the journey and got amazing support from developers, producers, engagers, and QA. Guys – you are the superheroes.
The new office is showing everything that is in our DNA. It is the place that we created for us, where we can get creative. There is a lot of space not only for working, but for organising events. It is a small piece of Australia in the middle of Krakow. It is place that we fell in-love with at first sight.
And changing that place is shown symbolically as a change for all of XHTMLized."
Miłosz Bażela, COO
It would be inappropriate to say we are looking forward to this kind of event again, especially when the paint on the walls may still be wet here and there, when some of the desks still remain empty, waiting for new superheroes of code to occupy them. But what we are surely looking forward to is meeting once again in this noble company, aspiring to greater heights, expanded with new happy faces.
Related blog posts
10 years ago Dave Rosen and Stan Dzavoronok started a company which pioneered an industry… solving the challenge of quality front-end development.
Ten years is a long time. Most of us get to live 7 decades according to averages. If you hit 10 decades you get a letter from the Queen. A decade is a quarter of my life so far, and certainly the most impacting decade I've had so far.