WordPress, Drupal, Joomla or custom CMS
Our experienced development team is here to advise and help you.
Get started
I am interested in new technologies and ways to deliver scalable and user-friendly websites.
A process as easy as ...
Approve Quote
Receive a free quote based on our thorough discovery of your project. Approve the quote and complete payment to send it to production.
Overview Production
Overview production while our producers work hard to ensure that everything is done on time and of the highest quality.
Enjoy the Result
Enjoy the result including 2-weeks warranty. Need maintenance, further development or a new project? We are here for you.
What is your CMS challenge?
Send us your project brief and receive a free review and quote
What we offer
WordPress Development
We can convert your design to a WordPress theme and provide you with an easy-to-update and future-proof website.
Drupal & Joomla Development
We can build your website using other popular open source Content Managements Systems like Drupal or Joomla.
Custom CMS Development
If none of the existing CMSs suit your specific needs, we can build a custom CMS for you based on one of the popular PHP or Ruby on Rails frameworks.
6 reasons to work with us
01
we are
Experienced
Serving clients like you since 2006
From small businesses to the web's biggest brands, we have been helping thousands of clients since 2006 (before 2016 as XHTMLized).
02
we are
Friendly
We are a friendly bunch of people
We believe the best results can be achieved if our clients perceive us as good friends. After all, friends are people you can trust and rely on.
03
we are
Innovative
Modern development workflows at your disposal
Get best of our development tools like Chisel, a tool for setting up and developing front-end and WordPress projects.
04
we are
Flexible
Proposing solutions, adapting to your needs
We can analyze your situation and propose the best technical solution for you or adapt to your specific development needs.
05
we are
Transparent
Transparent processes, open-source tools
We ensure that our production process is clear for you and answer any questions. You can review our development standards and tools at GitHub.
06
we are
Different
Finding our unique way, same as you do
We know that finding a place under the sun is a challenge for any business. Working with us is more than just development - we understand you.
Featured client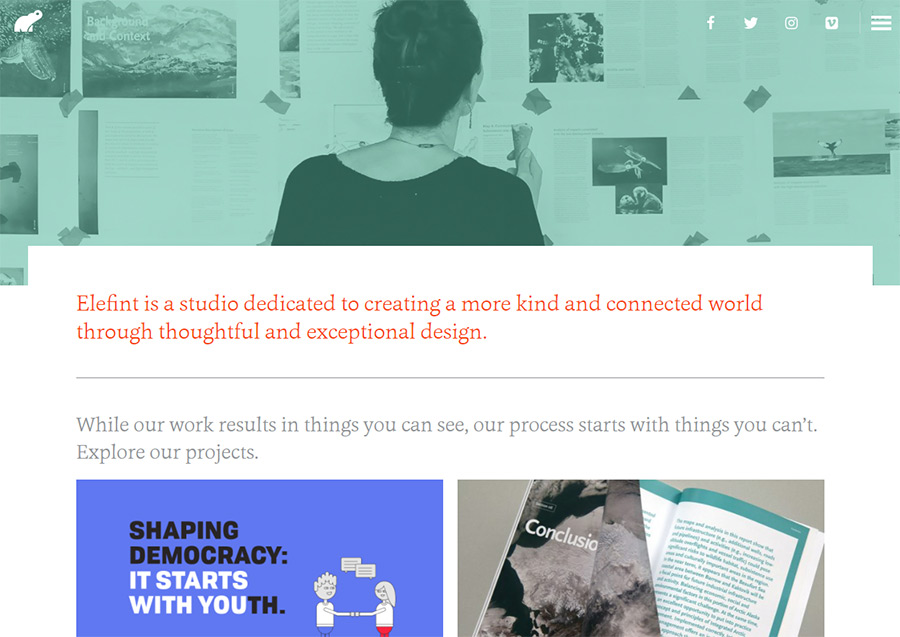 Elefint Designs, Inc.
Thoughtful and exceptional design of Elefint's projects requires perfect execution and attention to detail.
Elefint Designs uses our hours packages to flexibly allocate development time for their projects. They also spend some of these hours on the existing projects maintenance.
Xfive is an extremely reliable and professional development partner. They have helped us improve our process and offerings. We really appreciate their flexibility, quality, and attention to detail.

Owner + Design Lead