Work
Check out the experience, expertise and care we bring to our clients projects.
Case study
Hypergiant
Conversion of ultra-complex, multi layered design
When Hypergiant went out of stealth mode they needed a fast and precise conversion of their intentionally complex, multi layered web design.
Read case study
I'm happy to see how the idea of "retro-futurism" materialized in our website which was developed by Xfive in just 3 weeks. This allowed us to meet the press release date and gives Hypergiant a striking identity, which is largely recognizable by clients and press.

Founder & CEO
Case study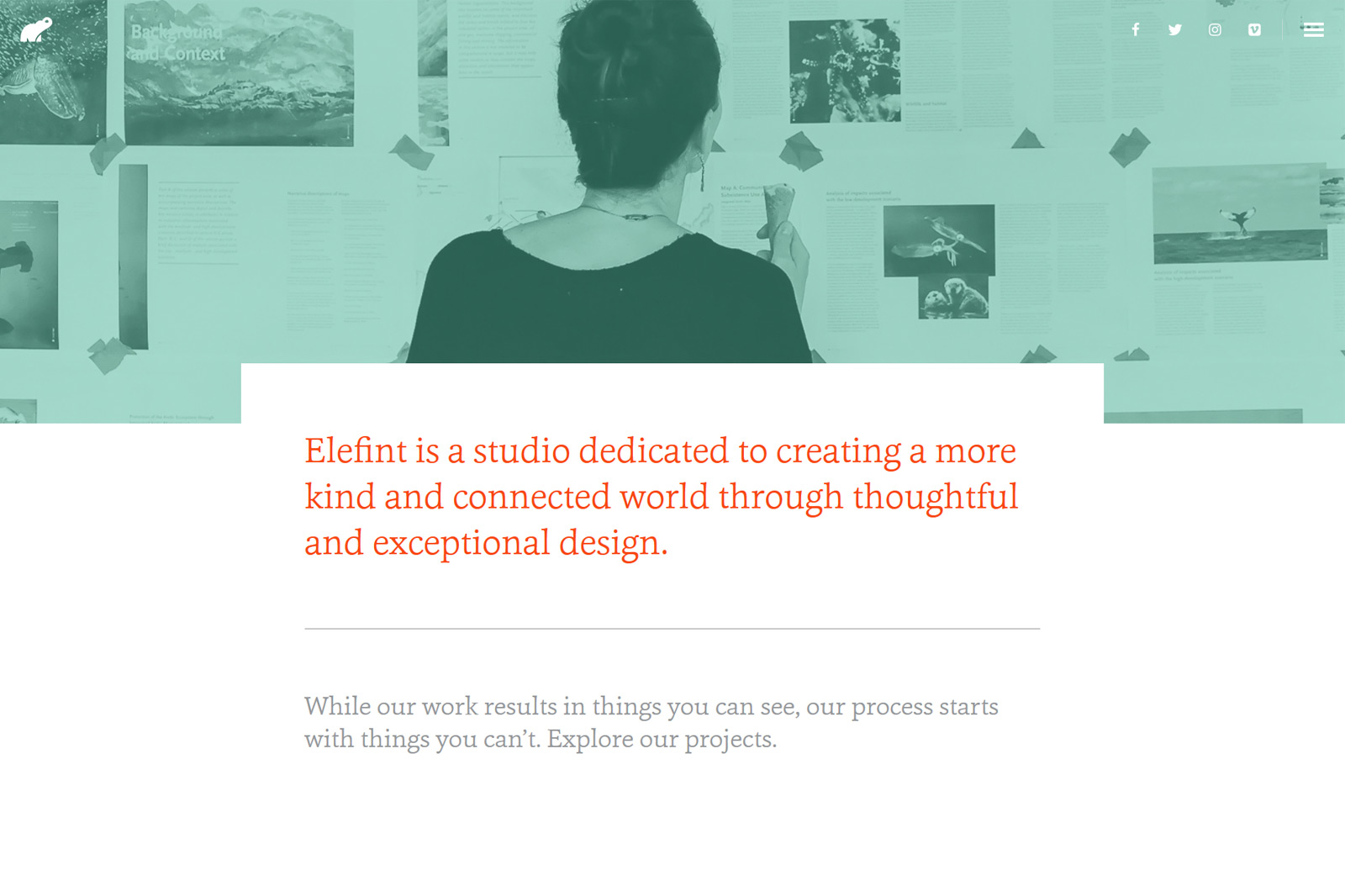 Elefint Designs
Premium care for a studio which designs for good
Since 2016 we have been taking care of the development needs of Elefint, a San Francisco based studio which aims to create a more kind and connected world through thoughtful and exceptional design.
Read case study
Xfive is an extremely reliable and professional development partner. They have helped us improve our process and offerings. We really appreciate their flexibility, quality, and attention to detail.

Owner + Design Lead
Case study
SinglePoint
Successful cooperation of front-end and back-end team
For Boston Software we have created an Angular front-end of their comparative rating application, SinglePoint, while working closely with their back-end team.
Read case study
The Xfive team delivered what we needed for a critical project. They were responsive to our needs and worked within development guidelines we established for the project. Both teams worked together to refine a process that delivered quality results despite the challenges of time shift and separate team locations. The Xfive development team worked closely with our team using our collaboration tools to find shared understanding for our product. Most impressively, Pawel and the Xfive team continuously worked to understand our objectives, our timelines, and our requirements. Their development team was outstanding and helped us to build a high quality product.

CTO and Chief Engineer
Case study
Press+
A complete solution for higher education web content management
Xfive has created a complete solution for higher education web content management by making use of the WordPress CMS and Pantheon hosting. Press+ serves as a platform for university department websites.
Read case study
I am so impressed with the services our Department of African American Studies at UC Berkeley has received from this website company. Stano/Xfive replies immediately to all of our requests and does so with a level of care that ensures our department home page maintains its integrity. I recommend the services wholeheartedly! You will not be disappointed!

Professor & H. Michael and Jeanne Williams Department Chair
Case study
The UltraWellness Center
Not just another WordPress website
We have created a modern and fast WordPress website for Dr. Mark Hyman's UltraWellness Center. By using our custom WordPress development framework Chisel, we have ensured that the site is easy to maintain and extend in the future.
Read case study
My Project Manager was Ewa. I loved having her because I had a point person I could always email. When I was giving feedback on the website, she was assigning it to different people, developers, and the QA guy. On my end, it was effortless, because she was the one who was assigning the tasks.

Marketing Director
Featured project
Conversable
A WordPress website for enterprise conversational intelligence platform for creating intuitive, on-demand, automated experiences on any messaging or voice channel.
Visit site
I have the pleasure of working with Pawel and his team often and they continue to be very diligent with their work. They always meet their proposed time estimates and are very quick to turn around edits. Everyone I have had contact with is very polite, professional and helpful. I definitely recommend Xfive!

Conversable