Work
Show cases, case studies & more.
Featured client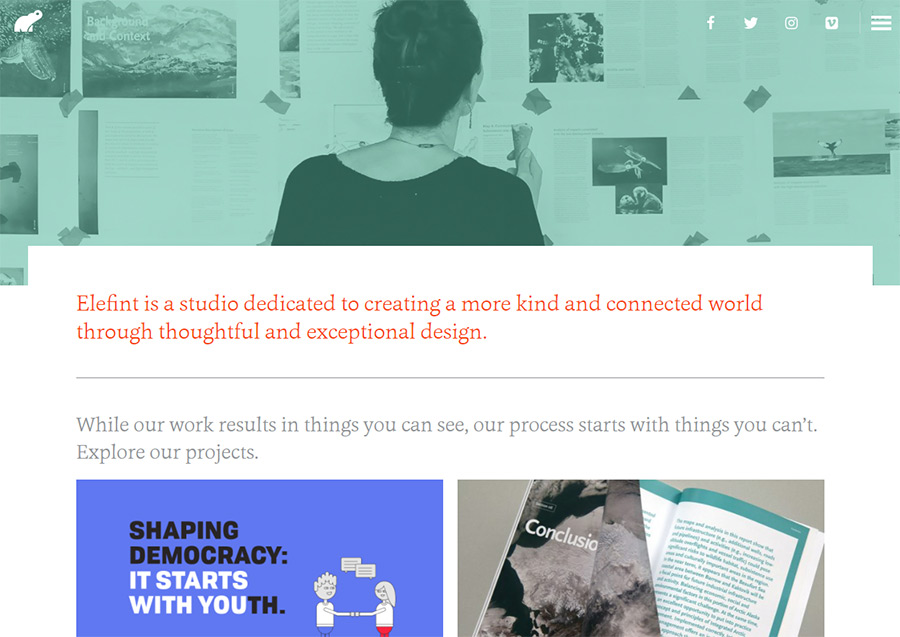 Elefint Designs, Inc.
Thoughtful and exceptional design of Elefint's projects requires perfect execution and attention to detail.
Elefint Designs uses our hours packages to flexibly allocate development time for their projects. They also spend some of these hours on the existing projects maintenance.
Xfive is an extremely reliable and professional development partner. They have helped us improve our process and offerings. We really appreciate their flexibility, quality, and attention to detail.

Owner + Design Lead
Hypergiant
JavaScript
WordPress
Timber
Sketch
A WordPress website about Hypergiant company which creates hyper-efficient and scalable solutions by aggregating and correlating data from various sources and utilizing it across the entire business structure.
Meet your DA
JavaScript
WordPress
SCSS
Goodie Website
Ruby on Rails
ES6
Performance
Xfive's new service for lower budget website projects. We have built a custom administration workflow in Ruby on Rails.
Leadership Public Schools
ITCSS
JavaScript
Sketch
WordPress
An easy to manage WordPress multisite for Leadership Public Schools. Design by Elefint Designs.
Thousand Currents
ITCSS
JavaScript
Sketch
WordPress
An easy to manage WordPress site for Thousand Currents. Design by Elefint Designs.
Featured project
Conversable
A WordPress website for enterprise conversational intelligence platform for creating intuitive, on-demand, automated experiences on any messaging or voice channel.
I have the pleasure of working with Pawel and his team often and they continue to be very diligent with their work. They always meet their proposed time estimates and are very quick to turn around edits. Everyone I have had contact with is very polite, professional and helpful. I definitely recommend Xfive!

Conversable
Transparency and Accountability Initiative
ITCSS
JavaScript
Sketch
WordPress
A WordPress site for Transparency and Accountability Initiative. Design by Elefint Designs.
Women's Funding Network
ITCSS
JavaScript
Sketch
WordPress
Open Lantern
Ruby on Rails
Ember
JavaScript
ITCSS
What happens when a new startup wants to develop a new project and has a clear vision but wants to focus on business activities rather than organize and maintain a development team?