Shopify store for roller blinds business
Blinds Downunder
Design and development of a Shopify online store with high-quality, custom-made blinds.
Services
Discovery
Design
Development
Expertise
Branding
Frontend
Shopify
UI
UX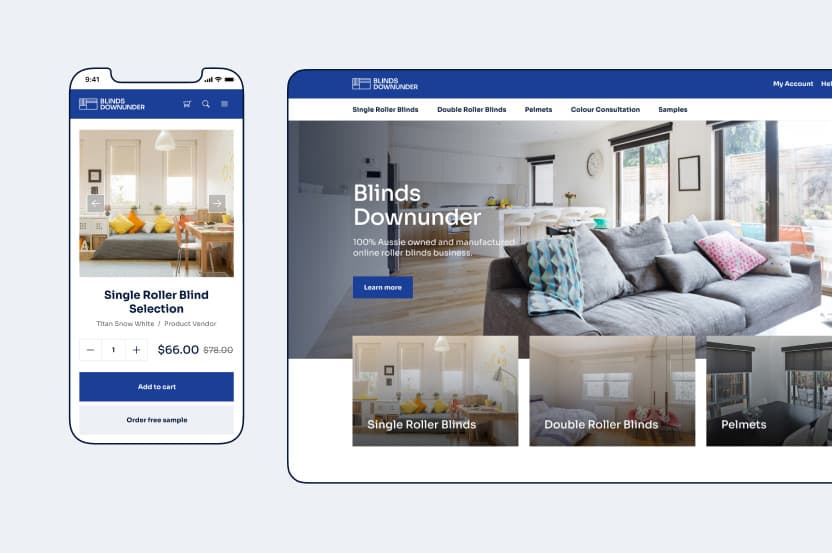 Helping to move business online
Blinds Downunder is an Australian online blinds company with variable pricing options for people to select different fabrics, loaders, fixtures, and fittings for blinds. Users can watch 3D animated videos, measure their window frames, and install the blinds themselves, thus saving a lot of money.
Conditions during the COVID-19 pandemic imposed restrictions on how the client did business and communicated with customers. A Shopify store that reflects the customization options that customers have on-site helped them move their business online.
The project turned out to be much more complicated than it seemed initially. Advice from Xfive's UX designer helped simplify it and make the blinds' customization process easy for customers.
Custom blinds configurator
To meet users' expectations and requirements, we created a blinds configurator. With its help, a customer can build blinds that match any window size.
We walked through every step of the configuration of the blinds before building the actual website to provide the proper Information Architecture and user flow. The designer mapped out where things went, functionalities, colors, photo placements, dropdowns, etc.
The development was the easy part because we'd built everything during the design stages. Shopify search engine helped save hours of customization and additional actual web development time.
A unique solution on the blinds market
The site is user-friendly and guides customers to the cart. Even customers who describe themselves as computer novices can navigate easily through the entire store.
With a large selection of fabrics and multiple choices of blind components, including colors, the blinds configurator is a highly versatile tool. Clean and intuitive filters allow you to find the desired blinds quickly.
The client finds their product unique on the market and is happy with the results.
Check the full process of designing Blinds Downunder in this presentation on Behance.
Xfive met and surpassed all of my needs.