Build the van you want
Van Cafe
Design and development of BigCommerce website for "van life" online store.
Services
Discovery
Design
Development
Industry
Automotive
E-Commerce
Manufacturing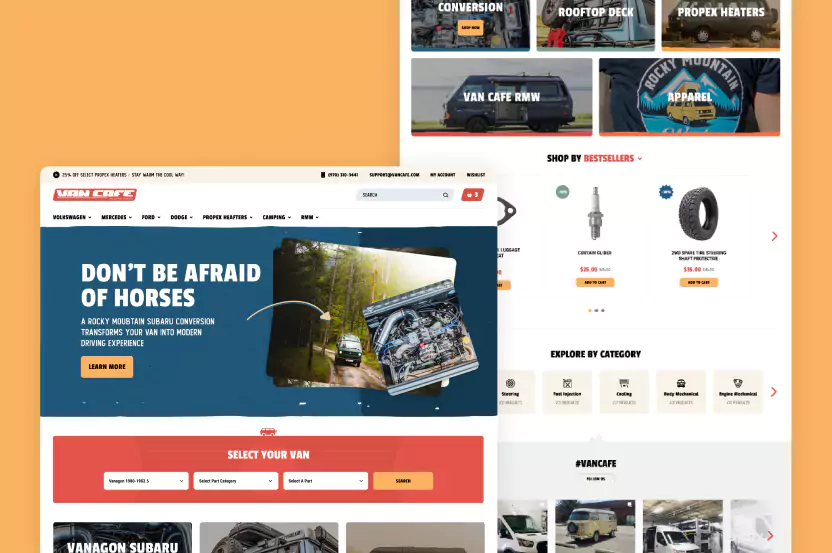 Acumatica and BigCommerce to support the growth
Van Cafe of North Fort Collins has a unique position in the Vanagon market. It's a result of their passion for innovation and the automotive industry, combined with the fact that they make a significant portion of their products in their manufacturing facility.
To support its growth and operations, Van Cafe switched to the Acumatica ERP system. Their existing e-commerce system Volusion didn't provide native integration with Acumatica, so they decided to switch to BigCommerce. Van Cafe's deployment partner, PC Bennett Solutions, reached out to Xfive to create a unique vintage-like branding and style and develop a new BigCommerce site for Van Cafe.
A unique vintage-like branding and website style
Our team, comprising Product Manager, UX and UI designers, front-end and BigCommerce developers, and a quality controller, worked on the three key challenges:
Creating an intuitive UX that will guide users through the complex product configurator containing a variety of years, brands, and types of vans.
Combining the usefulness of a modern e-commerce solution with a design referring to the vintage-inspired "van life" lifestyle.
Implementation and development of a BigCommerce store with several custom features.
A modern e-commerce website with custom solutions
The new Van Cafe's website seamlessly blends the functionality of a modern e-commerce website with a vintage look. It required several custom solutions during the development phase:
Over ten custom widgets to meet the design and functional requirements.
The design required 4-level deep main navigation, which works well on mobile.
A minimum quantity for product options was added to the standard BigCommerce configuration.
Improved product galleries by preventing low-resolution images from being upscaled (using GraphQL API)
The new website received positive feedback from external and internal stakeholders. Customers appreciate the new look and feel of the products' presentation and enjoy the UX improvements.
The conversion rate increased because of a simplified ordering process. According to the BigCommerce case study, there was a 24% increase in orders, a 77% increase in average order value, and a 119% increase in revenue.
Check out the Behance case study for more details on the design and development process.
Their designs are exceptional and their communication is great. They also do things in a timely manner, which is amazing.