Be prepared for the adventure of your mind
Quest Cruises
Quest Cruises was established to offer individuals who seek unforgettable experiences the opportunity to embark on a luxury yacht adventure in the breathtaking Sea of Cortez.
Services
Discovery
Design
Development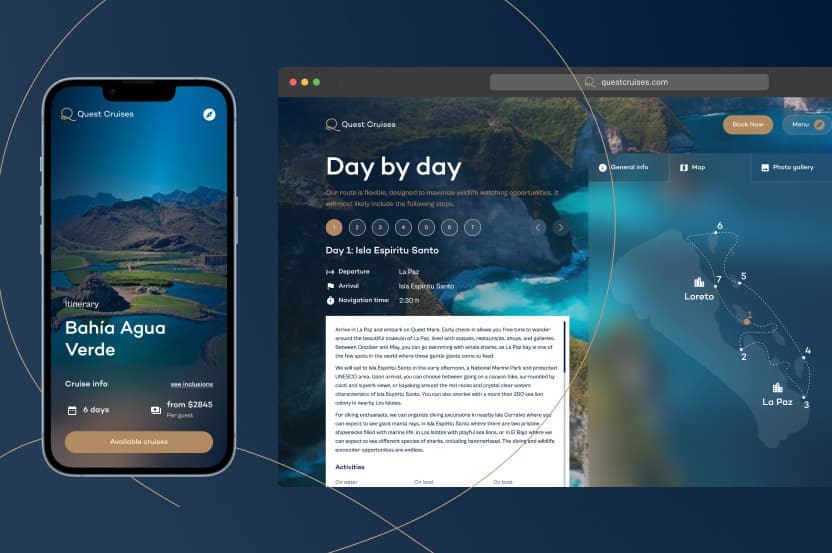 Sustainable cruising
Quest Cruises aims to create a sustainable cruising service through a unique concept of sea travel in its brand-new eco-friendly and highly efficient superyacht. They promote responsible tourism and marine conservation in the remote locations around the Sea of Cortez in the Mexican Baja peninsula.
Growing their fleet, they want to expand their operation to other remote and difficult-to-access cruising grounds.
Quest Cruises contacted Xfive to design and develop its website with a booking and payment platform.
Evolving brand identity
In the initial discovery phase, we helped the client to evolve their brand identity and finalize the service logo.
Since the client already defined their target audience, we dived deeper (pun intended) with a user journey to find and address their pain points. Then we created an interactive prototype of the website, which helped the client to materialize what they envisioned for their website.
According to the client, development continued smoothly. They also appreciated that we stuck to the budget and were always responsive and attentive.
The cruise continues
The service launched with a landing page to grow a database of potential clients.
We built a booking system distinct from existing solutions on the market. The main website is ready to be launched when Quest Cruises sets sail in 2024.
The discovery phase helped us materialize what we envisioned for our webpage, and afterward, the development went pretty smoothly.