Modern customizable gift boxes
Rare Assembly
Rare Assembly disrupted the gift box market by offering design-focused products from quality brands in high-end packaging that's fully gift-ready.
Services
Discovery
Design
Development
Expertise
Shopify
UI
UX
WooCommerce
WordPress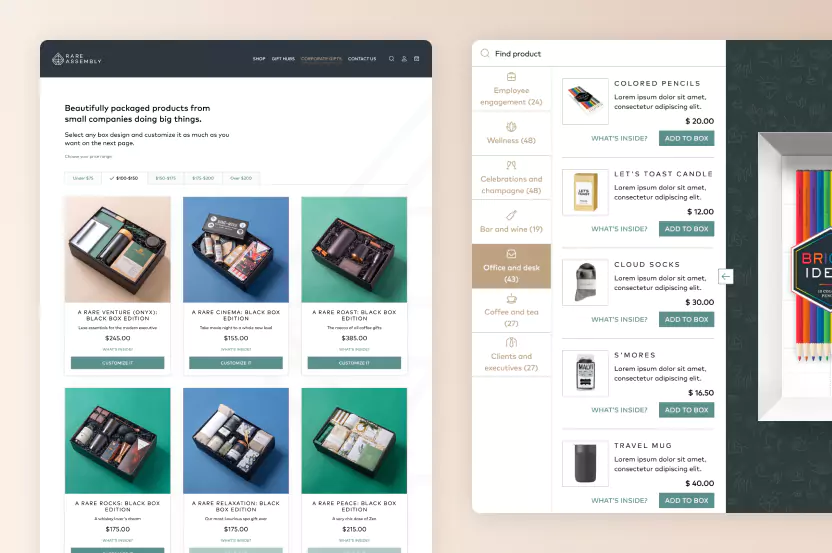 How to manage custom orders of corporate gifts
Rare Assembly specializes in corporate gifts for companies in all sectors. They needed a better solution for managing their bulk and custom orders. They also wanted to give website visitors a way to offer gift choices to their clients right through their site.
The app had to be seamless, brandable, and connected to Shopify on the backend.
The client interviewed three firms, and despite their initial preference that the firm is in the U.S. (for time zone purposes), she decided on Xfive because of our portfolio and understanding of what the client was looking for.
Time zone differences? No problem
We moved to the design phase after a kickoff meeting and a discovery process. Mikolaj, Head of Design at Xfive, was an invaluable partner in brainstorming ways to make the product as intuitive as possible for the client's users. He also re-designed product pages and several other pages on their site, which leveled up the entire look significantly.
According to the client, the developers they worked with (both to code the custom app and to do custom work on the Shopify site) were exceptional.
Despite the nearly opposite time zones, we made tweaks and edits swiftly so the client always felt confident about addressing customer needs quickly.
Onboarding multiple new customers
Within a few weeks after launching the app, the client onboarded multiple new customers and their biggest clients to the app.
Rare Assembly customers can now design their gift pages with custom imagery, logo, text, and gift selection that ties into the Shopify inventory.
When their recipients select a gift, it automatically creates an order in the Rare Assembly system and relays tracking information back to the customer who placed the order and their recipient. Orders can also be uploaded via CSV.
The quality of the deliverables and the accessibility of the team were impressive.