How to Snowboard: The Definitive Guide (2022)
Learn how to snowboard with our definitive guide to snowboarding for creative and tech people (and everyone else).
We stopped on the side of the slope in a well visible place (safety first!) when my father said to me: "You are still 5 years younger than I was when I had started snowboarding."
He started snowboarding as a 47-years old, and during the last 20 years snowboarding took him to places like New Zealand and the National Geographic YouTube channel:
What is it about snowboarding that can change your whole life? How can sliding down a hill on a piece of wood become a lifelong passion?
In this guide, we will take a thorough look at snowboarding. Whether you are just thinking about trying it for the first time or you already have some experience behind you, we will equip you with a lot of knowledge and practical tips to help you on your snowboarding journey.
The key ingredients of snowboarding
There is much more to snowboarding than we realize just by looking at someone riding on a snowboard down the slope.
Snowboarding has similar aspects to what we do when we set up our tools, learn new things and create as designers or developers.
Snowboarding can resonate with the geek inside us because it has gadgets, it requires a systematic approach to our own progress, and it provides a lot of satisfaction and fun we typically find in the creative process.
Set up
Similar to how we pick up and set up our computers and devices, our design or dev tools and work environment, we need to pick up and set up our snowboard equipment. There is a lot of tech involved in modern snowboarding, countless variations we can review and decide about.
We love getting new stuff – new gear we can play with, comparing it to the old one looking for any tiny impact it can have on our experience and performance.
Progress
Snowboarding is a very technical sport. Even when you master its basics, there are many paths you can progress down and a lot of things to learn.
Don't get comfortable with what you already know. You'll miss the satisfaction that comes from learning new things.
Of course, sometimes you can feel frustration if something isn't happening as you'd wish. It should motivate rather than paralyze you.
Have fun
Combine your carefully selected setup with your progress challenges and have endless fun on the slope.
Your way of riding creates your own expression and experiences. Laid down carve. Surfing pow. Feel of the stomped trick. Riding with friends. You and the mountain.
Introduction to snowboarding
Snowboarding history
If we have been looking for the roots of snowboarding, there probably isn't an older documented case than the tradition of riding boards in the village of Petran, Turkey. They have been snowboarding for over 300 years, as the following excellent film documents.
There isn't any evidence that Petran snowboarding had an influence on the development of modern snowboarding. Independently, but not unlikely in the result, its origins date back to the early 1960s in the USA when Sherman Poppen created a predecessor of the snowboard, called the "snurfer". As the name suggests, it was inspired by surfing.
Check out A Brief History of Snowboarding if you are interested in how snowboarding has boomed (and then down-turned) since then.
Snowboarding styles
The boots snowboarders use define the major difference between snowboarding styles.
Hardboots
Hardshell, ski-like boots, are mostly associated with alpine snowboarding and carving. They are also used in racing and parallel slalom. Alpine snowboards are typically narrower and longer and the stance uses big positive angles.
Since most snowboarders ride in softboots, sometimes they may give alpine snowboarders weird looks. With a recent renaissance of carving in mainstream snowboarding, there is no reason for such rivalry.
Softboots
Riding in softboots is the most common way of recreational snowboarding, and unless you know what you do, we recommend starting in them too.
The rest of this guide will focus on riding in softboots, as it's the most versatile form of snowboarding. You can use softboots for all different snowboarding styles like carving, freestyle, freeride. We will inspect these styles in Where to progress section.
Softboots is a synonym of freedom associated with snowboarding – walking freely, without heavy skis and clumsy poles.
(However, don't quote me the next time you have to unstrap on a flat area while your friend on skis easily overtakes you using their poles.)
Snowboarding equipment
Properly chosen and set up snowboard equipment can significantly improve your experience and speed up your progress. That's why we explain some key features in this section.
Proper snowboard equipment can make or break your day on the mountain.
Snowboard
Snowboard types have evolved a lot in the last decade. The three key characteristics define how a snowboard rides:
Profile
Snowboard profile refers to how a snowboard looks like when you view it from the side.
The center of the snowboard with camber profile is elevated, which creates bigger pressure on the contact points (the points where snowboard touches ground) when you stand on the board. The results are more stable ride, more pop for ollies and rebound in turns.
It's easier to catch the edge on it and it doesn't float that well in powder, though.
Rocker snowboards have reversed camber profile and they float better in powder. Usually, they are also easier to press when doing butter tricks. They are more forgiving, so you are less likely to catch the edge on them, especially if you are a beginner. However, their edge hold is not as good as in camber boards.
Flat snowboards are completely flat when lying on the ground. You can use them for a variety of riding styles. They are well suitable for park riding.
Hybrid profiles combine camber and rocker in certain ways. For example, CamRock shown above uses camber under the feet for greater stability and pop and rocker at the nose and tail for more catch free ride and float in the powder. Another variation is RockCam with rocker between the feet and camber under the bindings.
There are other profiles like powder specific S Rocker. For more information on camber profiles, check out this BoardWorld post.
Shape
Snowboard shape specifies how the snowboard look like when you view it from the top.
Snowboard with twin shape has the same nose and tail and rides equally well in both directions, so it is a good choice if you want to learn to ride switch or do freestyle tricks where you often land switch.
Directional snowboards typically have a tapered shape, a wider nose and narrower tail. They ride better in one direction and also float better in powder.
Directional twin has the same shape of nose and tail, however the flex is stiffer in the tail.
Check out this Whitelines video for more information on snowboard shapes.
Flex
Flex defines how stiff the snowboard is. It is usually rated on a 1 to 10 scale with 1 being the softest and 10 being stiffest, with most models falling into the 3 – 7 range.
We typically use stiffer boards for freeriding and carving, while softer for freestyle.
Snowboard categories
Based on profile, shape, and flex, we can sort snowboards into the following categories:
All-mountain freestyle – twin or directional twin snowboards with medium flex with focus on freestyle riding all over the mountain.
All-mountain freeride – directional snowboards with stiffer flex, sometimes with tapered shape, camber profile or hybrid profile for added powder capabilities.
Park snowboards – twin snowboards with soft to medium flex, camber, rocker, flat or hybrid. Stiffer boards with camber are usually used for bigger jumps and pipe riding
Powder specific – directional snowboards with s-rocker, a tapered shape with a wider nose and shorter, narrow tail (a swallow tail).
Volume shifted boards – a relatively new category of snowboards – these snowboards are wider and shorter, they can have different shapes and profiles. Extra width increases board's float in powder and reduce the probability of boot-out when carving (see below).
Beginner snowboard
Check out the following video on what characteristics the beginner snowboard should have:
Here is a quick rundown:
lower price point,
flat or mellow camber between the feet for greater stability, rocker towards nose and tail for a more forgiving, catch-free ride (CamRock profile, see above),
soft to middle flex (3 – 5),
in the middle of recommended weight range (don't choose your snowboard based on your height),
if you are a man with 12+ US boot size, consider mid-wide boards with width around 260mm+ to avoid toe or heel drag
Stomp pad
A stomp pad is a piece of foam or plastic you can glue to your board between the bindings – it will help you ride your board with one foot strapped in, e.g. when you get on and off the lift.
Stickers
Stickers are a nice way for some creative expression or preference for certain brands. If you are a complete beginner, avoid extensive sticker job on your snowboard. You probably don't want to catch more attention than necessary when you are just struggling with the first moves.
Boots
Although we call them soft boots, snowboarding boots differ by flex:
soft to mid flex boots are more suitable for beginners and freestyle snowboarding because they allow more flex for the tricks
hard flex boots are a better choice for advanced riders and freeriding, because they more accurately translate movement to the binding and snowboard
Lacing systems
Another important difference between boots is the lacing system. There are three main types of lacing systems:
traditional laces
speed lacing
boa systems
Check out How to choose snowboard boots guide by Tactics for more information.
Boot fit
Proper boot fit is crucial for your comfort and performance on the snowboard.
Snowboards boots should have a snug fit, so your toes should lightly touch the front of the inner liner when you stand straight. When you stand in the snowboard stance, your toes move backward a bit. Your heels should stay locked in place.
Don't forget to try out the boots in the socks you will use for riding. If your shop offers such option, have your boots heat molded after the purchase.
Check out the following guide for more information:
If you're struggling with getting proper fitted boots, you can also look for advice in Snowboarding Forum.
Bindings
Similarly to snowboards, we can categorize bindings according to their intended use to all-mountain, freestyle and freeride categories. Freestyle bindings are typically softer and freeride stiffer, with the all-mountain category in between them.
Because snowboarding bindings translates movements from your boots to snowboard, they need to fit your boots well. You can find bindings in different sizes (typically S/M, L/XL). Check the manufacturer sizing chart for the proper binding size for your boots.
Note: If you are buying Burton binding, be aware not to buy the EST version if you don't have a snowboard with the EST channel
The latest development in bindings technology is Burton's Step On, which removes the necessity of strapping in and off the bindings.
Binding setup
Setting up bindings means:
customize binding so it fits your boot well (length of straps, etc.)
adjust your baseplate length so it creates support for your boots' sole (your boot should have some toe and heel overhang, but not too much)
mount it on your snowboard with your preferred angles and so your boots are centered over the board
Check out these videos for more details on binding setup.
Clothing
Jacket and pants
Jacket and pants as top layers protect you from the elements, so focus on solid waterproofing. You should be ok with 10k waterproofing and breathability for the resort riding unless you live in a wet climate. For freeriding, go with 20k and up (GORE-TEX®, eVent™ and other materials) if your budget allows it.
A suitable compromise for resort riding is a light insulation in the jacket. Technical, non-insulated jackets are a better choice for freeriding.
Especially as a beginner, you may sit on ground more often so pay attention to choosing quality pants.
Snowboarding jackets should have a powder skirt inside, which prevents snow from getting to your waist and you can attach it to your pants. Volcom offers a patented jacket-to-pant zip feature.
An alternative is bib pants because they provide a protection against snow and also allow the free movement of the waist.
Jacket and pants usually come in three styles:
loose fit
standard fit
slim fit
Choose the fit you like, but ensure that any protective gear you use fits under it. As a beginner, pick standard or loose fit for freedom of movement. What can feel baggy and oversized doesn't feel like that much when riding. This is especially true for the pants which need relatively big leg openings to fit over the boots. Also, make sure that your pants are long enough even when you squat.
Check out Evo's guide on outerwear fit.
Gloves
For gloves, you have two options – mitts and gloves. Mitts are more popular among snowboarders as they will keep your hands warmer. They may make it harder to operate things like your zips or bindings buckles, though.
Ensure that your gloves are easy to take off and put on, especially if you plan to use wrist protection. If they go under your jacket sleeve, check out that your sleeve has enough room to fit them under.
Base and mid layers
The base layer should be from functional material to keep you warm and dry. You can try a one-piece bottom layer for extra warmth.
Depending on whether you have an insulated jacket, you can pick up a hoodie or inner layer jacket.
Facemask
A facemask, balaclava, or neck warmer is a must on the snowboard. It will keep snow and wind out of your face and neck.
Socks
Thinner socks can keep your feet warmer than thick socks, which pack up in the boots and reduce blood circulation. Choose socks from synthetic materials or wool (for example Merino Wool) which keeps warm even when wet.
Protection
Goggles
Goggles should offer a good peripheral vision and fit your face with no discomfort. You can often buy goggles with two pairs of glasses – one for low light condition and another one for sunny days.
Helmet
A helmet is a must for a beginner on a snowboard. Catching the edge is one of the most common reasons of fall – slamming your head against the snow is not fun.
If you don't like the look of a helmet, consider wearing your goggles under the helmet for a more stylish look. Avoid a gap between the goggles and helmet.
Wrist guards
Wrist injuries are quite common among snowboarders. When you fall down, you instinctively try to reduce impact by using your hands – instead, try to spread out impact by using your forearms (see Common mistakes in the next section for more details).
Impact shorts
Impact shorts can come in handy, especially when beginning since you sit more on the snow and falls on tailbone are more common.
Boot insoles
If you want to protect your knees in the long run, consider buying aftermarket insoles with impact reduction.
Accessories
Learn how to snowboard
Now that you have everything you need, it's time to learn to snowboard
Lessons or self-learning?
First things first, we absolutely recommend that you take lessons to learn how to snowboard. An experienced snowboarding instructor can make your learning process effective and safe.
However, if for any reason you don't want to or cannot take lessons, this section explains the typical process of learning how to snowboard. Even if you are about to take lessons, it's useful to understand how the process works so later you can follow along more easily or train on your own after the lessons.
Finding your stance
First, determine which foot is dominant – whether you are a regular – riding with your left foot forward or goofy, riding with your right foot forward. Check out the following video on some tips on how to do it:
Set up your snowboard
If you haven't already, you need to mount the bindings on your snowboard. Two variables come into play here:
Stance width – it should feel comfortable and stable and allow you to squat. It should be slightly wider than your shoulders.
Bindings angles – the most common stance on snowboard is a "duck stance". Your front binding has a positive angle and the rear binding a negative one. This will allow you to ride more comfortably on switch (with your opposite leg forward). It's common to set up front binding with slightly larger angle on the front foot, e.g. +12/-9, or 18/-12, but for beginning you can set up the equal angles.
The painful truth about snowboarding beginnings
The most falls in snowboarding, especially when beginning, are caused by catching the edge. When your edge digs into the snow, your snowboard stops and the inertial force slams you to the ground. This can hurt!
Many beginners learn to snowboard in circumstances that are very prone to catching the edge – on flat slopes.
On a flat slope, the edge opposite to the one you are trying to ride on is naturally very close to the ground and prone to digging into the snow, particularly because you haven't developed a good control over the edges yet.
You can minimize the risk of this happening in two ways:
Practice your first moves on snowboard with just one foot attached first. See the QuickRide system below.
Practice side-slipping with both feet attached on slightly steeper slope where the opposite edge is further from the snow. This has two advantages:

a bigger margin for error
board slides easier on a steeper slope
CASI QuickRide system
The best way to show a typical learning process is in CASI's QuickRide System.
QuickRide is a system used for teaching snowboarding by CASI, Canadian Association of Snowboard Instructors. It's the product of 20 years of experience, innovation and refinement and it provides the most comprehensive and fastest way of how to learn to snowboard.
Contrary to what you might expect, you will spend a lot of time practicing with just front foot attached to the snowboard in the initial lessons. This gives you an option to step out away from the board if you are about to fall or if you catch an edge.
You can get familiar with QuickRide basic principles in this video.
The progression steps in the QuickRide system are:
Basics
Sliding
Control
Turning
Flow
Basics
The goal in this step is to get familiar with your snowboard and get comfortable moving around on with one leg attached. You start by practicing in a flat area, trying out how the snowboards slides and how it feels to stand on it in a neutral balanced position.
Next, you progress to skating and climbing and descending with one leg attached. These skills are very handy for moving around with your snowboard and getting on and off the lifts.
Sliding
The goal of the sliding step is to become comfortable on the snowboard while it slides. You start in a flat area, pushing with one leg and then putting the other leg on the snowboard. Next you progress to sliding on the snowboard on a flat slope.
Finally, you practice turning the snowboard with toe and heel drag and J-turns with still just one foot attached.
Control
In the third step, you learn to control both speed and direction with both feet attached to the snowboard.
First, you try side-slipping with one foot attached and also changing direction this way. Then it's time to attach a board to both feet for the first time. You learn how to create a platform in the snow so you don't have to sit down when strapping into your bindings.
Then you practice side-slipping and pendulum on heel and toe edge (notice the steeper slope in the video)
Turning
The goal of the turning step is to learn to turn by changing edges in the fall line.
This includes exercises like garlands, J-turns, and finally beginner turns.
Flow
In the last step of QuickRide system you will learn to explore mountain safely. You will improve your turns by adding traverse between them and learn how to flex and extend your position to better absorb terrain and control your speed.
Other tutorials
You can also check out these other tutorials.
How to Snowboard: A Beginner's Guide by PSIA-AASI
How to Snowboard with Real Beginners by Malcolm Moore
Common mistakes
Around 60-70% of recreational snowboarders don't ride with proper technique. Your observations may vary depending on where you ride. This can be a consequence of not taking lessons or not understanding the correct technique. It's very easy to develop bad habits, which then may be hard to get rid of.
Check out the most common mistakes on how to avoid them.
Unbalanced position
The following Snowboard Addiction video explains what a balanced position is and how you can practice it.
Straight legs
The next video discusses another common problem – the straight legs.
Turning with counter rotation
Turning with counter rotation is one of the common mistakes beginner and intermediate snowboards do:
Counter-rotation has its important place in snowboarding but you need to use it for the right purpose, e.g. speed checks or in freestyle where it's a part of many tricks.
Riding on a flat base
Riding on a flat base means that you don't apply any pressure to any of your edges and your snowboard rides just on its base. It's very easy to catch the edge in such a situation. Always try to apply slight pressure on one edge, even when riding down the fall line on cat tracks.
You only ride on a flat base when switching from edge to edge during the turns or in powder. You also ride flat base on boxes when doing freestyle tricks or when you training for them on the snow.
Falling on hands
One of the most common injuries in snowboarding is wrist injuries. Learn how to fall properly by spreading out impact.
How to improve your riding
Snowboard Addiction has another nice video summarizing all common mistakes and tips on how to improve your riding
Snowboarding etiquette
Snowboarders have earned a poor reputation among skiers over the years – they often see us as those who sit in the middle of the slope. Maybe you don't care what skiers think, but for your own safety and the safety of others, try to avoid doing this. If you need to stop, stop on the side of the track where other people can clearly see you. Never stop behind the lip or in places where others cannot see you.
Get familiar with the rules valid for the resort when you are riding. Not only they will help you ride more safely, it's good to know them when something happens and people argue about whose fault it was.
Use your common sense and see beyond rules.
It's a general rule that the skier or rider behind you is responsible for safely passing you. However, if you are doing wide open carving turns without looking uphill, you are asking for trouble. It's better to be safe than sorry – always look uphill when crossing the slope to avoid being hit by someone bombing down. It's easier to look uphill when you are on your toe edge. Learn to peek over the shoulder when on the heel edge.
For more info, check out What Are The Basic Rules Of Snowboarding?
How to teach children to snowboard
Although you've might have seen YouTube videos of 2 or 3-year-old children snowboarding, snowboarding is harder to grasp for an average child than skiing. While with skis a child can move their feet freely and only need to understand two relatively simple concepts (pizza / french fries), the sideways movement and balance involved in snowboarding is not that natural for small kids. This is partially because they have their centre of mass moved towards the head until the age of 8.
Like with anything related to sports in small children, play and fun is the key. It's more about experience than technique. Children are not able to develop the same skills refinement as adults until the age of 12, anyway. As snowboarding represents one way load on the body, it's important to avoid overdoing it at a young age and devote enough time to compensation exercise or free play, which best develops essential motor skills in children.
One way to experience mountains safely with your smaller children on a snowboard is using MDXONE snowboard harness which is approved by CASI (Canadian Association of Snowboard Instructors).
Check out How To Teach Your Kids To Snowboard for more tips on how to snowboard with your children.
Where to progress?
There are many areas to progress to after you master snowboarding basics. In this section we will describe the most common ones.
Adaptive stance
Stance variations can confuse even more experienced riders. When you snowboard, you learn to ride in a neutral position, aligned with your snowboard. So why do some advanced snowboarders ride with their shoulders open?
In fact, such a position allows you to ride with more speed and control. The following video shows the difference between a neutral and high-speed position.
SBINZ defines stance scale with three levels:
basic
active
high performance stance
Master all three of them and adapt your stance depending on the conditions and your riding style. The following videos teach how to do toe and heel side turns using high performance stance.
Switch riding
If you took snowboard lessons or followed QuickRide system, chances are that you have already ridden on switch – with your opposite leg forward. Being able to ride switch is necessary if you want to progress to freestyle snowboarding as even some basic tricks like 180 end in the switch position.
Check out Malcolm Moore's video on switch riding.
Freeride
Freeride refers to riding your snowboard in free terrain – it can be a nearby terrain outside the groomed tracks in your local resort, further areas you have to hike to or extreme terrain in the mountains.
Powder
Freeride snowboarding is mostly associated with riding powder. It's one of the best feelings you can have on snowboard closely related to snowboarding roots in surfing.
For powder riding, it's crucial that the nose of your snowboard stays on the top of the snow. Depending on your snowboard, this can be easier or harder to achieve.
The easiest way is to ride on a powder specific snowboard with wide rocker nose which naturally stays on the top of the snow and a narrow, short tail which sinks down. If you have a twin snowboard, you need to weight over your tail more, which typically leads to bigger back leg burn.
The best way to start with powder riding is during powder days in resorts, as sometimes there is powder directly on tracks or the nearby terrain is relatively safe for practicing your first powder runs (beware: this doesn't apply for trees, see below)
For more tips, check out How to Snowboard in Powder from Tommie Bennett.
Advanced freeride
Once you progress to a certain level, you can try more advanced forms of freeriding in backcountry. You can sometimes reach backcountry areas from the resorts, but they often require a serious hike. Splitboards are popular for this purpose. Commercial services like cat- and heli skiing are also available.
Safety
Safety is an enormous concern in freeriding because of the risk of avalanches, tree wells, hitting trees or falling down in the exposed terrain.
Tree wells are especially dangerous even for beginners because they can form in the trees in the resort.
Never undermine such risk and get all required equipment, training and follow the instructions of the mountain rescue.
If you are interested in advance freeriding, definitely check out How to series with Xavier de Le Rue.
Carving
Carving is going through a renaissance in snowboarding nowadays. Many riders who are getting older are not hitting parks that often and are looking for an alternative fun. Videos like the Yearning for Turning series from Korua Shapes (a snowboard brand which specializes in carving snowboards for soft boots) have also popularized carving recently.
Carving means you ride through the turns only on edges of your snowboard and leave a thin line behind you (as opposed to sliding turns).
Check out the following video from Snowboard Addiction to learn the basics.
Certain snowboard setups are better for carving:
stiffer, camber dominant snowboards hold edge better through the carves
wider snowboards are also better for carving because you typically have less toe and heel overhang on them. The lower you get in the carve, the closer your toes or heels get to the snow and you risk a "boot out" – your boot digs to the snow and the edge loses contact with the snow.
When carving always pay attention to safety – you are doing wider turns which require more space, so look uphill during your turns.
Freestyle
Freestyle snowboarding refers to doing various tricks on snowboard. You can do these tricks on:
flat ground – the flat surface of the slopes
boxes, rails and other features in a terrain park
jumps in the terrain park
natural features like side hits, lips, etc. in resort or in free terrain
urban features
half-pipe or quarter pipe
Freestyle is the most creative part of snowboarding and is an endless source of inspiration for your progress.
If you'd like to get better at snowboarding, incorporate freestyle into it early because it will improve your balance and overall riding competence. Wear additional protective gear if you just start with freestyle snowboarding or any time you learn a new trick.
You don't have to go to a snow park to start with freestyle, you can practice many freestyle tricks on the slope. We call them flat-ground tricks and the basic one is ollie.
Ollie
Ollie is the basic freestyle trick and foundation of many other tricks. You shift your weight over the back leg and load the tail of your snowboard like spring. Then pop from it and bring your knees to the chest. It needs to be one fluid motion.
Rotation vs. counter rotation
Before you move on, understand how rotation and counter rotation works on a snowboard because they are part of almost all other snowboard tricks.
Check out the separation and anticipation video from SBINZ to learn more about these concepts.
Butters
Butters are fun and stylish flatground tricks. They usually involve pressing the nose or tail of your snowboard and spinning around in certain ways (hence the name, because of the movement being reminiscent of spreading butter). Buttering is also a good preparation for jibbing because many jibbing tricks have their flat ground counterpart.
Start with the basic buttering position and tailpress and nosepress. Some don't call these butters because they don't involve spinning, but they are the basic building blocks of all other butter tricks.
Check out Snowboard Addiction's buttering trick playlist for many variations of butter tricks. You can also check their new Buttering Series.
It's easier to butter on softer snowboards, just in case you wonder why you may have trouble doing butters on a stiff, freeride board.
Jumping
Jumping on a snowboard is the next logical progression when you get more control over your snowboard on the flat ground. It can be tempting but also intimidating for beginners – start easy and move your way up through the following Snowboard Addiction tutorials.
Jibbing
Jibbing is the most technical form of freestyle snowboarding. It means sliding with your snowboard on boxes or handrails. You can slide on these features with snowboard parallel to them (50-50) or perpendicular (boardslides) or combine them in various ways. You can jump into and out of the features using rotation and counter rotation and use presses. This creates endless combinations.
Follow along with these tutorials to start your jibbing training.
Off season training
How do you stay fit or even develop your snowboarding skills outside of winter? Here are a few tips.
Snowboard Addiction training products
Snowboard Addiction offers unique training gear for the off season training – jib board and balance bar for training jib tricks and tramp board for training jumps in trampoline. You can use them with training bindings.
If you are looking for a cheaper alternative, check out this TJ's video.
Skateboarding
Skateboarding and snowboarding have much in common – balanced position, sideways movement, tricks. Many pro snowboarders are also very good skateboarders. Skateboarding is more technical and challenging as it requires you to push to move forward (unless you ride an electric skateboard, of course). It's an excellent and the most affordable preparation for snowboarding during summer.
Surfing, wakeboarding, kitesurfing
If you are lucky enough that you can practice some of the water board sports related to snowboarding, definitely try them.
Workout
Snowboarding specific workout should focus on increasing your mobility and flexibility, functional and explosive strength and endurance of your core muscles and legs. Don't forget upper body workouts. Examples of training that cover these areas can be parkour, street workout, calisthenics or weight training.
Staying physically active during the entire year through any activity (strength training, running, swimming, hiking, cycling) is also a good preparation for snowboarding season, especially as you get older.
Resources
YouTube
Main channels
Vlogs, tutorials & reviews
Pros
If you'd like to see freestyle snowboarding in its top form, check out some of the following channels:
Brands channels
Instagram
You can follow plenty of snowboarding related accounts on Instagram like pro athletes, brands accounts or snowboarding coaches. Here are some of them:
Forums
Gear reviews
Online magazines
Online shops
Conclusion
Snowboarding is for everyone and it's never too late to start with it – maybe you will find a new passion in your life.
Snowboarding is also yours. It means that it's only up to you what form and shape you give to your riding. Take others as inspiration but find your unique way – there is always space for progress, no matter what your current level is.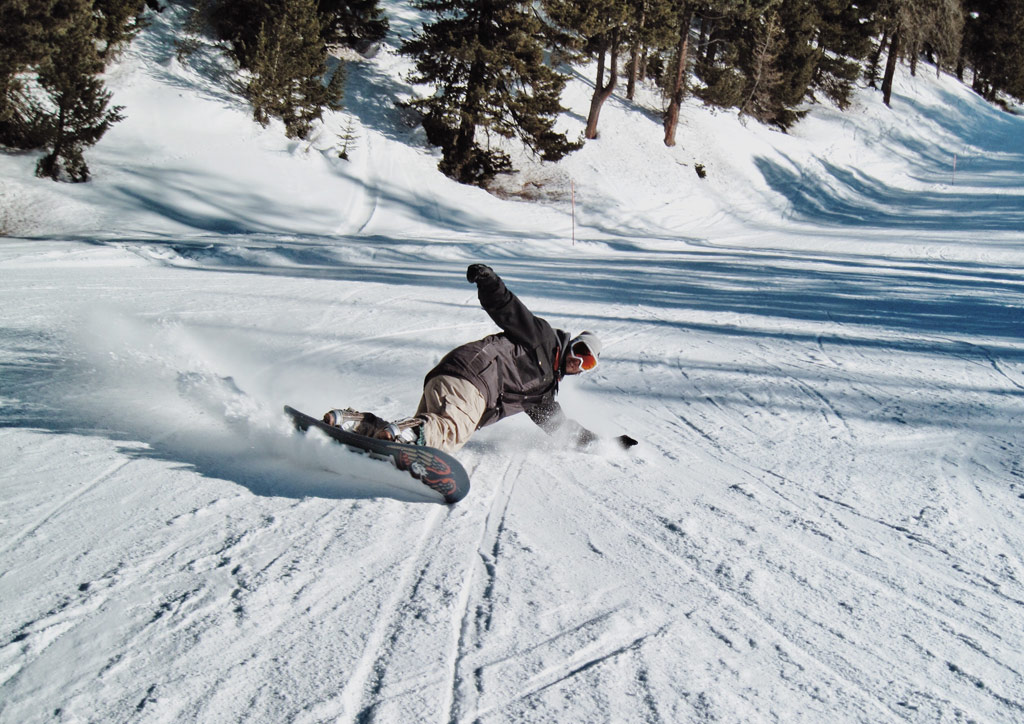 Hopefully, this guide will help you progress faster if you are new to snowboarding or provide you with some fresh perspectives on it if you already snowboard. If you have any suggestions or questions, post them in the comments.
Happy shredding!
—
Version History
Dec, 2021
updated products for 2021/2022 season
added new videos with beginner tutorials from PSIA-AASI and Malcolm Moore
replaced certain videos with better examples
linked to new buttering series from Snowboard Addiction
updated resources
Jan, 2021
updated products for 2020/2021 season
updated resources, added new YouTube channels
Nov, 2019
new section on adaptive stance
updated products for 2019/2020 season
added new videos on snowboard setup and binding adjustment
updated videos on finding your stance, powder riding tips and how to ollie
linked a new video on separation and anticipation
updated resources; added Instagram accounts
added version history
Dec, 2018
the first version of the guide