A preview of Xfive.co 2023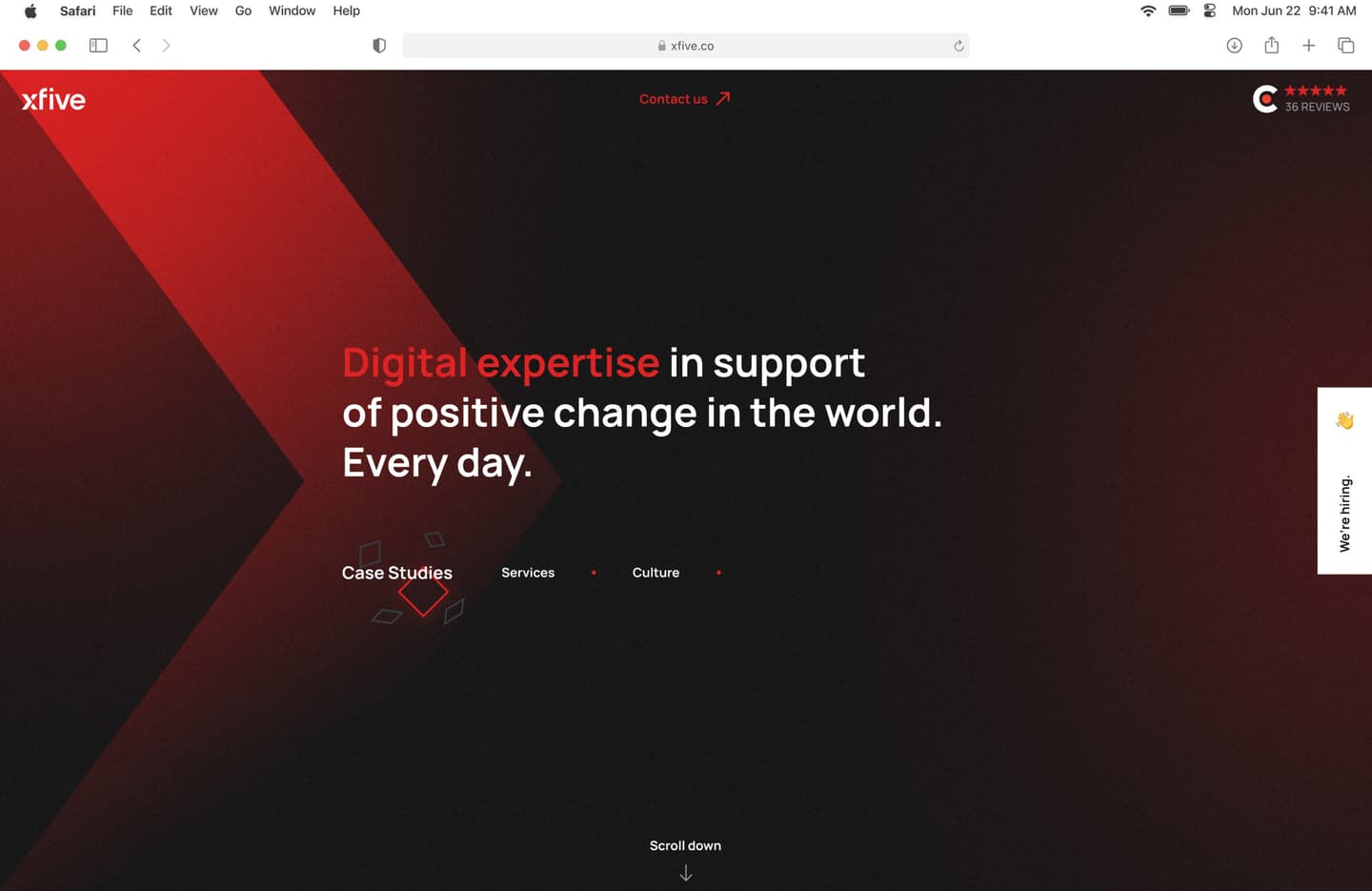 We are launching a new version of our website in Q2/2023. Here's a sneak peek preview of its design done in Figma.
Last year, we finished our internal transformation to a product design agency. Digital product design nowadays plays a much more critical role in our offer. We'd like our new website to stand out and reflect this new focus.
Discovery or not?
You've heard that you should understand the problem before working on a solution. It usually refers to the discovery process as the first stage in product development. We also run a discovery on most of our projects nowadays.
However, not all products begin at the same starting line. There is little to discover when redesigning a simple website like an agency website. Established user journeys exist. For example, when a user lands on a landing page and submits an inquiry. Or when they check the portfolio and decide whether the company has the experience they are looking for.
Creative direction
Perceived expertise and credibility can increase conversions on a site with well-established user patterns. Our designers wanted a more exclusive look on the new website, displaying our most recent design work more prominently.
Our research showed that competitors' sites often present their offers by sharing too much information.
After experimenting with inputs from different designers in Figma, our design team chose the designer with the most relatable feedback and insights. He continued working on the project while collaborating with the Design Lead and the marketing and sales team.
Design preview
Here's a preview of a few pages on our new website. We hope that animation will breathe life into these static examples, so don't forget to check out our live website later this year.
Home page
Services page
The services page will feature sleek object transformation to demonstrate our process.
Clutch Landing page
The Clutch landing page stands out amongst competitors and emphasizes our recent work examples.
Utopia responsive design
We use new approaches like better design handoff with Figma and Utopia in the new design.
Sales Design System
While our new website is still in development, we have already used the new design direction for creating a sales pitch design system in Figma. This design system helps our sales team to prepare professionally-looking proposals for clients.
Other projects
Here are some other websites and web apps we have recently designed in Figma.
Olera
Open Philology
Quest Cruises
What's next?
Since the last redesign in 2019, we have changed the tech stack. Our new website will run on Next.js with a headless WordPress. We plan to launch it in the 3rd quarter of 2023.
In the meantime, our design team is open to new challenges and collaborations. Please contact us if you'd like to create a unique, well-researched design for your project.